Saint Patrick's Day : to see life in green

I work hard to be well integrated in Ireland. That's the reason why I started celebrating Saint Patrick's day the day before. As a good student I tried to drink as the real Irish people, and I was quite drunk a few hours before the official beginning of the festivities. And I missed the Parade, as I was sleeping it off... So my Saint Patrick's Day began with an Irish hangover. Welcome to Ireland !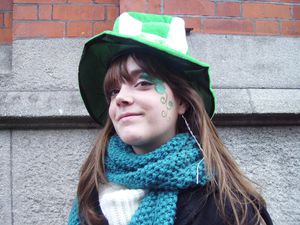 Saint Paddy's day -as the saint's nickname- has to be prepared. Everything has to be green for it ! And I just had to look through my window to be sure that I would not be ridiculous : yes, everybody is wearing funny hats and green clothes. I put my green scarf and my big green hat, here we go ! Walking in the streets, I was really surprised to see that almost everybody was wearing green and orange. From the babies in their pushchairs to the tourists, everybody really got into it. It was a great green flood of people that guided me to Temple Bar.
How pleasant it was to walk in the streets without cars. Only taxis and bus were allowed to drive in the afternoon, but when cars reappeared, later on, I was really disappointed that Dublin didn't choose to have a whole day off cars. It could be so great, especially in this city where, let's be honest, priority is given to cars, not to pedestrians.
In Temple Bar, girls made you up for a few coins. I chose the shamrocks, the man before me preferred the Irish flag. Every glance was a discovery. A green cowboy, two false Irishmen with their red-haired beards, a group of Vikings, some Saint Patrick and a lot of leprechauns : funny characters swept into Dublin.
But I had high expectations for the Irish national day. People talk about it as something incredible, but I saw nothing crazy and that disappointed me. I thought there would be people dancing and having fun. If a few did it, most of the people just walked around the city. Actually, the only thing to liven up this day was the Parade. But even those who saw or watch the Parade found out that it was not so good.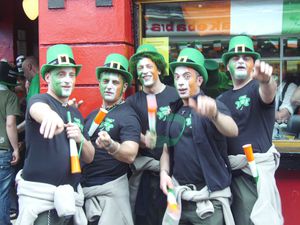 And you, what do you think of Saint Patrick's day ?
Et vous, que pensez-vous de la Saint Patrick ?